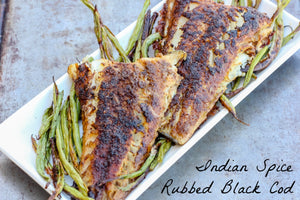 Indian Spice Rubbed Black Cod
Indian Spice Rubbed Black Cod ~ Black Cod rubbed with an aromatic blend of warm Indian spices, pan seared, and finished off in a hot oven for an exotic tasting yet easy meal. 
Selling premium, sustainable, and quite frankly, the most amazing fish, in a land-locked state is not without its difficulty. In order to remove the fear of both the product and the technique of cooking fish, we recently held a hands-on cooking demonstration in Salt Lake City. 
Both Nick and I felt that the best way for people to feel more comfortable cooking seafood was to do it in a classroom-like environment. 
What a night. Fish, high-heat cooking, and wine led to one amazing evening. 
Indian Food and Seafood
I love Indian food and since we were having a diverse group individuals in attendance, I wanted to create recipes and flavor profiles that were exotic to some and comforting to others. My Indian Spice Blend Rub worked deliciously with black cod. 
Pan searing in a bit of olive oil creates a lovely spiced crust and finishing in a hot oven, the fish cooks perfectly every time. After the quick sear, flip them over, skin side down before place the skillet in the oven.
30 Minute One Pan Meal
I'm a huge fan of one pan meals. If I can avoid dirtying another pot/pan, I will. So after searing the Indian Spice Rubbed Black Cod on the stove, I arranged the green beans around and under the black cod portions. The green beans had been seasoned with only salt and pepper then drizzled with a bit of olive oil and the whole skillet went in the oven. 
The Indian spice blend that was on the bottom of the pan commingled with green beans enhancing their flavor. When the green beans come out of the oven, they may looked charred and give the appearance of being ruined, but they are not, they will be crispy and delicious.

Ingredients:
4-6 oz. portions black cod
1 tsp Indian Spice Blend Rub; +/- to taste
3-4 tbsp extra virgin olive oil
1/2 lb. fresh trimmed green beans
1/4 tsp salt
1/4 tsp ground black pepper
Directions:
Preheat oven to 450°F.
Gently pat the black cod dry with a paper towel.
Brush the flesh with about 1/2 tbsp of olive oil.
Sprinkle the flesh with approximately 1/4 tsp of the Indian spice blend rub, more or less to taste.
Heat a large 12" cast-iron skillet over high heat. (Depending on the physical dimensions of the black cod portions, two skillets might be needed to make all four portions.)
Add 2 tbsp olive oil to the hot pan, spread it around.
Place the seasoned flesh side down into the hot skillet and sear for 2- 2 1/2 minutes.
Flip them, placing the skin side down. 
Toss the green beans with salt and pepper
Arrange the green beans around (and under, if necessary) the fish. 
Drizzle the remaining tablespoon of olive oil over the vegetable. 
Place skillet in the oven and bake for about 16 minutes or until the internal temperature reaches 145

°F

.  
When serving, take care to remove the bones and skin. 
---
1 comment