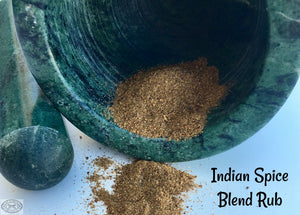 Indian Spice Blend Rub
Indian Spice Blend Rub ~ Aromatic blend of traditionally used herbs and spices roasted and ground giving your fish that exotic taste you crave from a local restaurant but can be easily made at home.  
Who is The Complete Savorist
Hey everyone. My name is Michelle De La Cerda. I am a food blogger over on The Complete Savorist. I have been working with Nick Lee for about a year now. Before he and his fish came into my life, I didn't eat all that much of it, much less ever cook it. 
Despite growing up in Southern California near the Pacific Ocean, I rarely ate fish or seafood of any kind. I may have choked down the occasional tuna salad sandwich or tuna casserole. There was one brief period when my family was eating a lot of shark for my sister's then-unknown health issue. But that was it. 
Fast forward 25 years, I am in the food profession, still mostly afraid of eating seafood. I live in Utah in a landlocked state, my fear was legit where seafood was concerned. 
Once Nick introduced me to his product, well let's just say it was a game changer for me. Fish that didn't taste fishy...who'd a thunk it? 
Now I regularly cook and eat seafood, but only Alaska Select Seafood. He's educated me (and will be educating all of you with upcoming blog posts) and let me just say, it's crucial to know your source. 
He's asked me to create recipes using his products. Ironically my inaugural post here is not even fish, but a spice blend to use on his fish. 
On my own site, I love exploring and developing recipes with an international flavor profile. That will definitely carry over here on his site. My first recipe here lives right up to that.
Indian Spice Blend
Indian Spice Blend Rub is an aromatic blend of spices common to Indian cuisine. I developed this blend to use in a cooking demonstration we had recently in Salt Lake City. It was so awesome, we decided everyone needed to know how to make this blend.
The ingredient list looks long, but the whole process will take about 15 minutes, 20 on a slow day. It is made in a couple of steps, but will make a nearly a cup worth of spice blend. Of course, you won't use it all at once (unless you're feeding large group), so simply store it in an airtight jar and toss it in your spice rack.  
How to Blend Your Own Spices
I use a coffee bean grinder SOLEY dedicated to spice grinding and blending. DO NOT USE your current coffee bean grinder to make this.
I was not able to blend all at once. I had to blend the toasted seeds to powder first, then added the remaining ingredients and blended all together.
Hope you enjoy this Indian Spice Blend Rub.
 Ingredients:
2 tbsp. coriander seed
2 tbsp. fennel seed
3 tsp. cumin seed
½ tsp. whole clove
1 ½ tsp. fenugreek
½ tbsp. peppercorn
1 ½ tbsp. brown sugar
1 ½ tsp. ginger powder
2 tsp. granulated garlic
3 tsp. dried mint
1 tsp. kosher salt
 Directions:
In a dry pan, over medium heat, roast the coriander, fennel, cumin, clove, fenugreek, and peppercorn about 7 minutes or until fully aromatic.
Toss or stir it frequently.
Allow to cool for at least 5 minutes.
Add all (or in batches) to a spice grinder along with the remaining ingredients.
Pulse until combined. Or ground by hand in a mortar and pestle
---