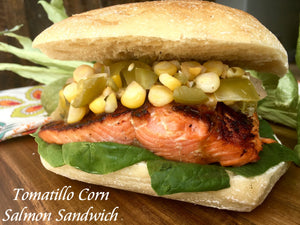 Tomatillo Corn Salmon Sandwich
Tomatillo Corn Salmon Sandwich combines unique ingredients like a tomatillo corn relish, sustainable sockeye salmon, and Old Bay seasoning for one tasty nosh. 
This Tomatillo Corn Salmon Sandwich is the epitome of seasonal eating. 
For my own website, The Complete Savorist, I participate in a burger of the month challenge where we're given secret ingredients to be creative with. This month, our ingredients were salmon, corn, tomatillos, and Old Bay Seasoning. Of course that meant I was going to be sharing the recipe over here. 
However, once I had planned, written, and executed my recipe, I discovered the Tomatillo Corn Relish I made to top the salmon was going to be wonderful with so many other things. 
Fresh corn, tomatillos, onions, jalapeños, garlic, cilantro, and lime make the relish one of my new favorite condiments. Together with the salmon, I was blown away. 
I couldn't actually call this a burger since I didn't deconstruct the salmon and make it into a patty, therefore it's just a sandwich. 
I did a quick sear in a very hot cast iron skillet, allowing the brown sugar/Old Bay rub to get a bit of a crust on it. Then I tossed it in a hot oven to finish cooking it off for just about 5 minutes. 
After allowing the salmon to rest for a couple of minutes, I put it on a bun, spread a bit of Old Bay seasoned mayonnaise, a couple of spoonfuls of the Tomatillo Corn Relish, and dug in. 
Tomatillo Corn Salmon Sandwich
Serves: 4      Prep: 10 minutes      Active Cooking: 10 minutes
Ingredients:
4 salmon portions
4 ciabatta buns or similar
1/4 cup extra virgin olive oil; divided 2 tbsp/2 tbsp
1/2 cup Tomatillo Corn Relish
Lettuce or spinach leaves; optional
      Old Bay Rub
2 teaspoons brown sugar
2 teaspoons Old Bay Seasoning
           Seasoned Mayonnaise 
1/4 cup mayonnaise
1 tsp Old Bay Seasoning
Directions:
     Old Bay Rub
Mix the brown sugar and Old Bay seasoning together in a small bowl.
     Seasoned Mayonnaise
Mix the mayonnaise and Old Bay seasoning in a small bowl until well combined. 
Cover and refrigerate until needed.
      Salmon
Remove the salmon from its packaging, set on a plate and pat dry; set aside.
Drizzle about 1/2 tablespoon of olive oil onto each salmon portion, rub the oil into the flesh.
Sprinkle about 1/2 teaspoon of the mixture onto each salmon portion then rub it into the oiled salmon flesh. 
Cover with plastic wrap or a towel; place in the refrigerator for 30 minutes. 
Remove the salmon from the refrigerator and pre-heat the oven to 400

°F

Heat a large 12" cast-iron skillet over high heat.
Add 2 tbsp olive oil to the hot pan, spread it around.
Place the seasoned flesh side down into the hot skillet and sear for 1-2 minutes.
Flip them, placing the skin side down. 
Place skillet in the oven and bake for about 5 minutes or until the internal temperature reaches 145

°F

.  
Remove an allow the salmon to rest.
While resting, slice the buns.
If using, place greens on bottom bun.
Spread the seasoned mayonnaise on the top bun (bottom as well, if desired).
Place the salmon portion on the bottom bun.
Add 3-4 tablespoons of the tomatillo corn relish atop the salmon portion.
Place the top bun.
Serve and enjoy.
---