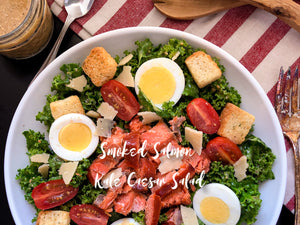 Smoked Salmon Kale Caesar Salad
Smoked Salmon Kale Caesar Salad is a simple lunch or dinner idea with little prep but will leave you satisfied. 
What is Caesar Salad?
Traditionally Caesar salad is made with romaine lettuce, not kale. It's a simple salad with croutons, parmesan cheese, and black pepper in a more complicated dressing. Caesar dressing has more ingredients than the salad does. 
To make the dressing homemade, you would need: lemon juice, olive oil, egg, Worcestershire sauce, anchovies, garlic, Dijon mustard, Parmesan cheese, and black pepper.
A lot of prepared dressings are very creamy, increasing the fat content, which I wanted to avoid.
For this particular salad, I used a lightened, prepared dressing. Homemade is always best, but I was after a quick and delicious meal. 
Why is it called Caesar Salad? 
It is widely believed that the salad was developed in Tijuana, Mexico in 1924.
Yes, Mexico!
Italian-American Caesar Cardini owned a restaurant in Tijuana. Legend has it that Americans upset with prohibition frequented Tijuana and on one 4th of July weekend, using on-hand ingredients whipped up this salad tableside.
The exact details and subsequent dressing ingredient changes are murky at best, the salad as we now know it was pretty set by 1926.
Now, the salad has international fame. And of course, with fame comes many adaptations. Ours is no different. 
 Smoked Salmon Caesar Salad
Our smoked salmon is perfect for this salad. Thaw the package, assemble the salad, and you have one high protein meal on your hands.
To prepare the smoked salmon, you can flake it with the grain, in the natural layers or you can cut it against the grain to make cubes or strips. Flaking will still occur with cubing it, but not nearly as much.
I preferred it with the chunks of smoked salmon, but it's a personal preference.
Kale Caesar Salad
Ironically, romaine lettuce is my favorite. So, why replace my favorite green with the ever trendy kale?
The simple answer is this was going to be my dinner and I wanted it to be hearty. While we're not nutritionists, it's widely known and accepted that kale is a nutrient-dense food. 
Also, I am a weird one who loves kale both raw and cooked. 
If an entire bowl of kale is too much, I suggest doing a 50/50 blend of kale and romaine. 
This will serve two as a meal and four as a side salad to a fuller meal. 
Smoked Salmon Kale Caesar Salad
Serves: 2-4
Ingredients:
1 bunch kale; clean, de-stemmed, and torn
1/2-1 cup Caesar dressing; divided
4 hardboiled eggs; sliced or chopped
1/2 pint cherry or grape tomatoes; halved
1 4-6 oz pkg Alaska Select Seafood smoked salmon
1 cup garlic croutons
1 oz parmesan cheese; curls, shredded, or grated.
Directions:
Toss the kale with some of the dressing to the desired coating level. 
Add to a large bowl.
Layer with eggs, tomatoes, salmon, and croutons and drizzle with remaining dressing. 
Add the parmesan cheese. 
Serve and enjoy. 
---