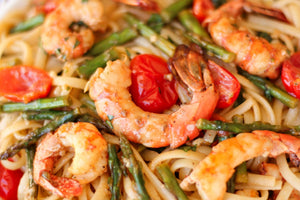 Roasted Spot Prawn Linguine with Asparagus and Tomatoes
Roasted Spot Prawn Linguine with Asparagus and Tomatoes ~ Garlic butter  Alaskan Spot Prawns, Asparagus, and Tomatoes, roasted and tossed with linguine.
Sometimes you just need a simple yet utterly delicious meal. 
This Roasted Spot Prawn Linguine with Asparagus and Tomatoes is one of those meals. Fresh, light, and loaded with subtle delicate flavor that will wow any crowd.
Easy Recipe 
When you look at the list of ingredients and the directions, it might seem a bit daunting, but I promise, it's not.
Almost everything gets tossed together in a bowl, poured onto a baking sheet, and while it is roasting in a hot oven, make some noodles. 
Once the noodles are cooked and the spot prawns and veggies are cooked, toss them together with fresh basil. If needed use some olive oil but the butter from the roasting sheet should provide enough wetness. 
Then into a bowl, sprinkle some red pepper flakes if you like a little heat and Roasted Spot Prawn Linguine with Asparagus and Tomatoes is served!
But before all that...
How to Shell and Devein Spot Prawns
Using a knife or your thumb, lift the shell up by where the head was, and work it off as if you're unwrapping it to just near the tail. This will take the shell and the legs off. 
Once the shell is removed, firmly hold the body of the prawn and gently tug on the tail, it will come free along with the remaining shell.
Run a sharp knife across the center of the prawn just deep enough to reach the vein. Once it's sliced open, use the blade's point to pull out the entire black vein. Should it break, use the blade tip to get scrape out all remaining pieces. 
Roasted Spot Prawn Linguine with Asparagus and Tomatoes
Ingredients:
¼ cup salted butter; melted
1 ½ tbsp. garlic; mince/grated (about 5 cloves)
½ tsp. kosher salt +/- to taste
½ tsp. black pepper +/- to taste
2 lbs. Alaskan Spot Prawns (remove tails and shells; deveined)
1 lb. asparagus; trimmed and diced into 1½ - 2" pieces
1 pint cherry or grape tomatoes; cleaned and halved
2-3 tbsp. fresh lemon juice
3 tbsp. fresh basil; chiffonade (ribbon) cut
1 lb. cooked linguine pasta
2 tbsp. extra virgin olive oil; if needed
Crushed red pepper flakes; optional
Directions:
Preheat oven to 400°F.
Bring a large pot of water to boil.
Melt butter with garlic in a small pan over medium-low heat until the garlic begins to brown.  Remove from heat.
Stir the salt and pepper into the garlic butter.
In a large bowl, toss the tomatoes, asparagus, and prawns with the melted garlic butter; making sure everything is evenly coated.
While stirring, add the fresh lemon juice to the prawn and vegetables.
Spread in a single layer on a baking sheet.
Roast for 12-15 minutes or until the prawns reach 120°F, DO NOT OVERCOOK the prawns.
While the prawns and vegetables are roasting, cook linguine according to package directions in heavily salted water.
Toss the roasted prawns, tomatoes, and asparagus with the cooked pasta, making sure all the butter and garlic from the roasting pan is incorporated.
Mix in the basil.
If pasta is too dry for personal tastes, add in some extra virgin olive oil.
Garnish with the optional red pepper flakes.
Serve and enjoy.

---
1 comment