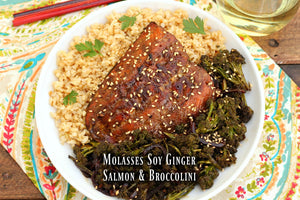 Molasses Soy Ginger Salmon and Broccolini
Molasses Soy Ginger Salmon and Broccolini is a one pan meal that can be on the table in less than 30 minutes.
Molasses Soy Ginger Salmon and Broccolini is a tasty dinner option that makes clean up a breeze by being a one-pan meal.
A perfect weeknight solution for the working professional who still needs to get a healthy and scrumptious meal on the table, especially since it can be prepped the night before.
Just because this is an ideal under 30 minute weeknight meal doesn't mean it won't impress during a weekend dinner party. 
What more could we ask for?
Oh, did I mention that it is also super healthy?
So it's really a double win!
Health Benefits of Salmon
Most likely you've heard mentioned before that salmon is an extremely healthy protein option. It has experienced a significant increase in popularity as people have become more health conscious.
The health benefits of salmon abound. You've all heard the buzzwords like Omega 3 fatty acids, B vitamins, antioxidants, and superfood by some diet experts in relation to salmon. This is reason alone to eat salmon 2-3 times a week. 
And if the health benefits weren't reason enough to enjoy same, the flavor certainly is.
Our sockeye salmon is subtle and refreshing without that overwhelming "fishy" taste many people complain about.
There's no reason to stop with just the salmon when focusing on a healthy meal. Let's double the nutrient packed pleasure by adding a second ingredient with just as big of a health punch.
What is Broccolini?
Have you ever seen broccolini in the stores?  It looks like baby broccoli, at least that's how I see it.  Broccolini is actually a hybrid cross of regular broccoli with Chinese broccoli.  
Random fact, it was the brainchild of broccoli seed developers who wanted to expand the broccoli seed market. Who knew there was a broccoli seed market?
But thankfully that brainchild led to the development of a new veggie that has a lanky stalk and small florets, all of which are edible.
Broccolini is best cooked, whether grilled, sautéed, baked, versus eating it raw. The flavor is sweeter and less earthy than regular broccoli, making it a great option for when you don't want the broccoli flavor to mask or dominate the other ingredients.
And just like salmon, broccolini is loaded with healthy benefits, like being high in vitamin A, folate, iron, potassium AND vitamin C.  This is a dynamic, low calorie, high flavored duo that will rock your taste buds!
Molasses Soy Ginger Salmon and Broccolini
Serves: 4
Ingredients:
Marinade:
½ cup soy sauce
1/3 cup molasses
2 tsp. ground ginger
1½ tbsp rice vinegar
3 tsp garlic; minced/grated (about 3 garlic cloves)
1/8 tsp black pepper
4 portions salmon (4-6-oz.)
8-10 oz. broccolini, trimmed
¼ cup red onion; sliced
2 tsp. toasted sesame seeds
Directions:
Combine the marinade ingredients in a saucepan over medium heat, stirring until combined.
Bring the sauce to a simmer, stirring frequently; reduce it to about 2/3 cup, about 2 minutes.
Once the sauce has reduced, remove from heat and allow to cool in the pan.
After the sauce has cooled sufficiently, remove about ¼ cup, set aside.
Remove salmon from packaging, pat dry.
Place the portions skin side down in a baking dish.
Spoon the removed sauce over the flesh, allowing it to soak in.
Flip and drizzle a bit over the skin.
Cover with lid, foil, or plastic wrap.
Allow the salmon to marinate in the refrigerator for at least 2 hours, but as long as over night.
If marinating overnight, store the remaining sauce in sealed container.
Preheat the oven to 400°F
Bring the salmon and marinade to room temperature.
Toss the broccolini and onions with 2-3 tbsp. of the reserved marinade until well coated.
Line a baking sheet with foil or parchment, or coat with the olive oil.
Place the salmon on the baking sheet, skin side down.
Nestle the vegetables around the salmon.
Bake for 8-12 minutes or about 4 minutes per ½" thickness. A thermometer should read 140°F.
Remove for the oven and allow to rest for a couple of minutes, the temperature will rise to 145°F.
Plate and drizzle with remaining sauce if desired.
Garnish with the toasted sesame seeds.
Serve and enjoy.
---