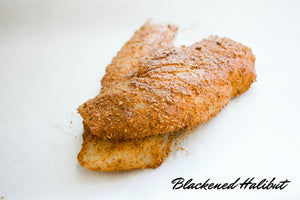 Blackened Halibut
Blackened Halibut is a delicious and simple way to enjoy this humble mild white fish, prepared easily in a skillet or on a grill. 
 Oh halibut, it's the other, other, white meat. 
Ok maybe that's a stretch. But halibut is one of the most popular whitefish out there. It's beloved for its extremely mild flavor. 
Facts about Halibut
Is the largest flatfish in the ocean, growing up to 9 feet long.

Part of the Righteye Flounder fish family.

Halibut swim sideways, one eye up and the other down.

There is Pacific (or Alaskan) and Atlantic halibut; closely related, with subtle differences.

Pacific or Alaskan Halibut can be found as far south as Southern California and west in Russian and Japanese waters

Females are larger than males of the same age.

To determine the age of a halibut, count 

the number rings on the ear bone like tree ring dating. 

Large halibut are known as "barn doors" and small halibut are called "chickens."
Halibut can be cooked using various methods like: sautéing, grilling, broiling, roasting, steaming or poaching, but because it is incredibly lean, it will dry out quickly if overcooked. 
Blackened Halibut is a simple and easy way to make a delicious meal. You can use the blackening spice and cook the grill, stovetop, or oven. 
Blackened Halibut
Ingredients:
4-6 oz. skinless portions Alaskan Halibut
1 tsp Blackening Spice Blend Rub; +/- to taste
3-4 tbsp extra virgin olive oil
1/4 tsp salt (optional)
Directions:
Blackened Halibut
Preheat oven to 400°F.
Gently pat the halibut dry with a paper towel.
Brush the flesh with about 1/2 tbsp of olive oil.
If using, sprinkle a bit of salt over each portion.
Sprinkle the flesh with approximately 1/4 tsp of the blackening spice blend rub, more or less to taste.
Heat a large 12" cast-iron skillet over high heat.
Add 2 tbsp olive oil to the hot pan, spread it around.
Place down into the hot skillet and sear for 1-2 minutes.
Flip and continue to sear. 
Place skillet in the oven and bake for about 8 minutes or until the internal temperature reaches 145

°F and the flesh is opaque

.  
Grilled Halibut
Prepare barbecue to medium heat—clean grates well.
Generously oil the grates, this fish will STICK and be easily ruined.
Grill the halibut until just cooked through and turns Opaque (But this might be hard to tell with seasoning.)  NO MORE THAN 4 minutes per side for the thinner portions and 5 minutes for the thicker portions.

Remove from grill and allow to rest.
Grilled Blackened Halibut Sandwiches
Generously coat hoagie rolls with mayo or an aioli.
Add lettuce, tomato, and any other desired sandwich toppings.
Place the cooked portion on the bread. 
Serve and enjoy.  
---